You need a PARTNER
---
We know you've been there.
Shooting a promo-video with your iPhone, but it looks grainy when uploaded to Facebook.
Needing a walk to settle down after just spending an hour trying to update the contact form on your website.
Coordinating one freelancer for your SEO, another for photography, and your friend's son who is "managing your social media" but you're pretty sure isn't doing much. All while you have your own job to do.
If you want your business to take the next step,
your marketing has to take the next step too.
But you know this. It's why you're here.
---
Why Glevity?
---
With Glevity as your marketing partner, you are in good hands. We simplify the process for you so you can focus on your business while we handle the what we know best, making you look good.
Together we'll help you take that next step and realize the vision you have in-mind for creative campaigns as well as your business's future!
Connector.

Quality Content

We have the technical skills and latest equipment necessary to create quality content for your brand.That means anything from script-writing to drone-footage, professional editing,
HD content, and optimization for your social channels.

Connector.

Trusted Professionals

There's a calming feeling to putting your project in the hands of someone you trust.For our clients we strive to be that trusted partner, to deliver the vision they have, and to proudly offer our expertise to grow your business.

Connector.

Full-Service

No more juggling freelancers and rolling the dice on quality. At Glevity, we do it all and you'll have a single point of contact.
Full-service means that if you ask,
"Can you do ____ ?
"The answer is "Yes."
---
Meet
Team!
Our cast of talent is diverse. Some of us come from in-house marketing for local businesses while others have backgrounds working in nationally recognized agencies. Each member has a unique skill that sets them apart but we take pride in training everybody in all of the services we offer.
Passion is our primary prerequisite.
---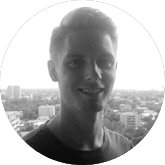 Tommy
Account Manager
Strategy Expert
Social Media / SEO
---
Everyone on our roster is a professional. Our aim is to have the ability to provide all of the production value with a local group of genuine creatives that love their work.
No two creators are alike but at Glevity we are all similar in our determination, attention to detail & entrepreneurial spirit.
Design
We believe that good design is the backbone of your business's ability to effectively market your product or service. When a customer sees your logo for the first time we want them to know exactly what it is you do and what you stand for. Consistency is key so we make sure your brand has what it needs to succeed, from AD's to custom in store signage. We can do it all, literally, you name it we'll do it.
Video / Photo
"Obsessive" is a good word to describe our devotion to video & photography. It's fun to shoot and your audience loves to see it. We like to look at the big picture though, so we recommend implementing our social media & web capabilities to maximize the reach of each piece of content. Flexibility is our favorite thing about content, for instance with video, we can help you with introduction videos for your customers or we can perfect a logo animation to be used in all forms of future presentation.
Social Media
Today's world of Advertising requires that you be in all places at all times. We have years of experience in the changing market of social media and we make sure to stay on top of the trends to ensure the best delivery of the content we create. Figuring out the right strategy can take time, lucky for you we already have it figured out.
Web Marketing
Nobody is perfect, but we think we are close. Web marketing can be difficult to do yourself. We make it easy, all you have to do is let us know what you need, be it a website, some SEO work or even display ADs. Whatever your project, the odds are we have done it before.